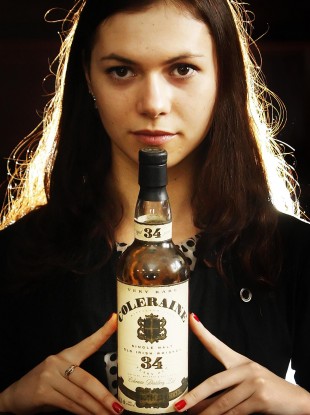 A rare 34 year old bottle bottle of Coleraine Single Malt Old Irish whiskey that went on auction in February.
Image: Danny Lawson/PA Archive/Press Association Images
IRELAND'S FIRST PURPOSE built distillery for new whiskey begins distilling in Dingle next month, as established drinks entrepreneurs look to mirror the success of the island's micro breweries.
With Ireland's three distilleries all owned by American or French drinks giants, entrepreneurs in Derry, Kerry and Louth have or are looking to start selling their own unique whiskeys and blends to capitalise on the growing market for whiskeys worldwide.
"There are around 160 distilleries in Scotland" says Oliver Hughes of the Dingle Distillery in Kerry. "In Ireland we have three and that's it. They are all owned by huge multinationals."
He sees huge opportunities to capitalise on a resurgence in interest in Irish whiskey worldwide, with sales of single malt whiskey in the US increasing by 24 per cent to 1.7 million cases last year, surpassing Scotch single malt for the first time.
Ciaran Mulgrew of Niche Drinks in Derry agrees. His company has been making liqueur since the 1980s, but has applied for planning permission for a £15m distilling plant after watching the €73m sale of the Cooley Distillery in Co Louth last year. Jack Teeling, a son of the company's founder, is now establishing his own brand based on one of Cooley's whiskeys.
"There are a handful of distilleries here and they are all owned by US or French PLCs" he told TheJournal.ie. "There is nothing small or indigenous. That's going against the trend that we see in beer, where a lot of craft breweries have sprung up in Ireland."
Teeling says the same.
25 years ago when the Cooley distillery was set up the industry was in a totally different place. In fact it was dormant. But the Irish climate, while not good for sunning yourself, is ideal for whiskey maturation. It allows for the production of a very smooth whiskey that suits pallets looking for that kind of taste. It also uses Irish water, Irish cereal and Irish expertise, which means it is going to survive globalisation as it has to be made here.
However, Ireland still controls a small amount of the worldwide market. Just 3.5 per cent of the world's whiskey comes from the island, against 60 per cent from Scotland.
Up until the 1920s, Derry was the largest whiskey producer in the world, making more whiskey than any other city in the world. Watts was the largest single distiller in the world, with Ireland boasting over 80 distilleries according to Brian Townsend in his book, 'The Lost Distilleries of Ireland'.
Prohibition put an end to much of the trade, with the Scottish industry, coming out on top when the ban on alcohol was lifted in 1933. Scotland distilleries now employ 10,000 people directly and other 35,000 indirectly.
According to Hughes, Ireland leaving the Commonwealth also had a major impact, as India was of the biggest markets in the world.
A co-founder of the Porter House Brewing company, he says there is huge scope to copy the success of the micro brewery trade with distilleries.
"We were at the forefront of craft brewing and in whiskey, we believe there is room for the small man."
Dingle has begun distilling gin and will start producing whiskey next month. Interested drinkers will have to wait three years to taste a drop though, with a five year variety called Founding Fathers Whiskey sitting in casks a little time longer. However, investors and patient drinkers can get in on the game early, with Dingle selling 500 casks of the five year whiskey for about €6500 each.