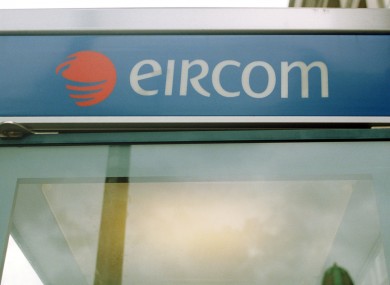 Image: Graham Hughes/Photocall Ireland
THE MAJORITY SHAREHOLDER in Eircom has resigned its representatives from the group's boards and committees after the company's lenders rejected proposals to restructure its massive debts.
ST Telemedia (STT), based in Singapore, had proposed a deal to restructure the telecoms company's massive loans – of about €3.7 billion – but this was rejected by its first-lien lenders who account for over two-thirds of this amount.
In a statement this morning, STT said it had asked its representatives to resign from the boards "in the best interest of the Group". It has also withdrawn the debt restructuring plan.
"We are disappointed that the [first-lien lenders] did not engage with us at all on this second proposal," STT vice-president Terry Clontz said, referring to an original proposal which had been put to the lenders in August.
STT said its plan – which would have proposed a cash injection of €200m, half of it to be refunded if Ireland left the euro – gave Eircom "the best opportunity to be competitive and viable over the long-term, as well as maintaining some financial flexibility in the current challenging environment."
The original August plan had been withdrawn after as the eurozone debt crisis continued to escalate.
Eircom chairman Ned Sullivan said the announcement provided "clarity" for the company.
STT owns 65 per cent of Eircom, with the Employee Share Ownership operation claiming the other 35 per cent.